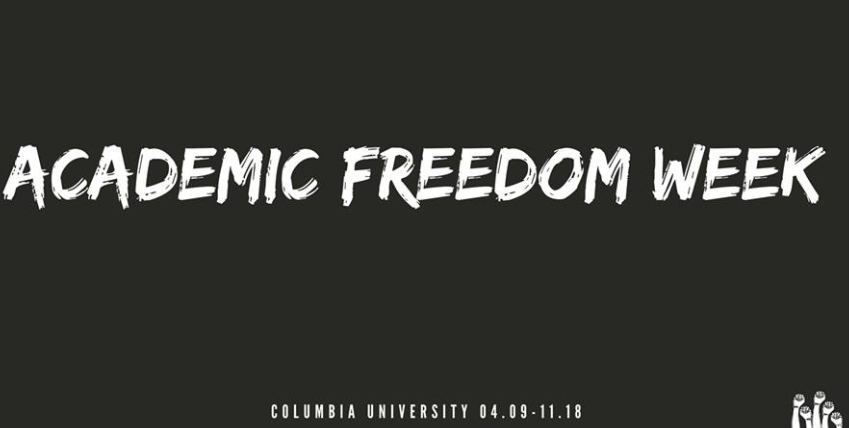 CAN Endorses Columbia University's Academic Freedom Week
CAN Endorses Columbia University's Academic Freedom Week
Columbia University College Republicans' broadest possible understanding of free speech has been used to corner the University into welcoming fascists and white-nationalists into academic space, as if such political stances were not themselves instances of violence inflicted on the academic community at Columbia and the community surrounding it.  The Campus Antifascist Network has been a strong advocate for scholars and students under threat by the alt-right.  It has released a statement of support for Dartmouth scholar Mark Bray when he was subject to criticism for his scholarship on anti-fascism.  CAN has endorsed faculty and student protests against white supremacist Richard Spencer and University of Florida, and alt-right xenophobe and transphobe Milo Yiannaopoulos at California University State Fullerton.  CAN's public declarations in support of dissident free speech has also criticized the alt-right and University administrators for using 'free speech' discourse to defend fascism.
The week beginning April 9, therefore, offers what academic freedom really amounts to.
With Day 1 (April 9) devoted to exploring The Palestine Exception, Academic Freedom Week will kick off analyzing how struggles for Palestinian liberation are silenced and criminalized at the university (Northwest Corner Building 501, Columbia, 7-9 pm). CAN fully endorses centering Palestinian voices and those committed to amplifying the Palestinian struggle for freedom. After the March 31st massacre of peaceful protesters in Gaza, speech criticizing the Israeli state, its violence, and its structural apartheid must be welcomed. While we fully reject any instance or tendency towards growing anti-Semitism, we recognize this scapegoating as motivated by the same social logics at the root of growing Islamophobia as well. We roundly reject the naïve thought that standing with those facing oppression requires any ethno-nationalism. As we have seen in Palestine, such a strategy makes those who reject it subject to ridiculous charges of anti-Semitism.
Day 2 (April 10) of Academic Freedom Week shifts the discussion to the domestic issue of rampant White Supremacy in Academia (Lehman Auditorium, 202 Altschul Hall, Barnard, 6-8 pm). It is particularly important to endorse this conversation at Columbia where white nationalists Mike Cernovich and Tommy Robinson were given platforms for their violent provocations and insults to the already vulnerable members of the university community and Harlem residents. At its very foundation, free speech requires commitment to a social order in which all have the ability to speak, and this manifestly requires the absolute rejection of racist discourse that silences Black, Latinx, Asian, Middle-Eastern, and Indigenous voices. If white supremacy is left unchecked in academia our curricula, classrooms, admissions policies, campus events, and support systems will continue to produce and reproduce the white supremacist knowledges thereby silencing the speech of anyone who is not racialized as white.
The 3rd and final day (April 10) of presentations for Academic Freedom Week explore Academic Anti-fascism (301 Pupin Hall, Columbia, 6-8pm). The rising fascist movement has not only proven dangerous for critical thinking and higher education in general, it has also proven particularly committed to attacking individual members of the academic community (including many members of CAN) who are brave enough to push back against this threat. CAN, and its many local chapters, were founded to provide a venue that links up academics opposed to fascism, thereby providing a united front to support those who have been attacked for their anti-fascist views. CAN is also deeply committed to tracking the connections between the alt-right and fascism, and to developing strategies to stop the fascist creep wherever it appears.
CAN is proud to endorse Columbia University's Academic Freedom Week and look forward to participating in its events.
To link up with and register for Academic Freedom Week at Columbia go to ***https://academicfreedomweek.wordpress.com/ ***
and ***https://www.facebook.com/academicfreedomweek/ ***
For enquiries email ***[email protected]***
To link up with CAN, and for helpful information and strategies on how to fight fascism on your campus go to ***campusantifascistnetwork.com***
or write directly to ***[email protected]***