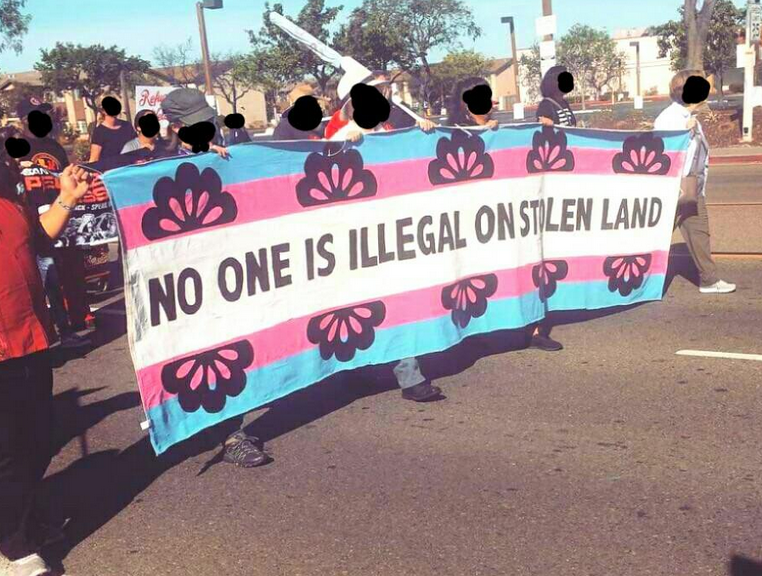 CAN Statement of Solidarity with Migrant Caravan and Call to Action
CAN Statement of Solidarity with Migrant Caravan and Call to Action
The Campus Antifascist Network (CAN) emerged in response to the fascist strategy of promoting a white-supremacist and nationalist project centered, in part, in covert and overt violence against immigrant, undocumented, and black and brown student communities on college and university campuses. At the same time, CAN recognized that this on-campus strategy had as its counterpart similar campaigns of violence against members of these communities beyond the bounds of the academic institution. From its inception, CAN saw these dual arenas of struggle as indelibly linked in the fight against the fascist tendencies embodied in white nationalist organizations and embedded in the very structure of contemporary US society. Now, seeing xenophobic violence leveled against the migrant caravan, CAN sends its full support to these asylum-seekers and refugees as well as all those on both sides of the border standing in solidarity with them against disruption, intimidation, and all ethno-nationalist projects, be their architects state or non-state actors.
Many far-right civilian militias, alt-right political organizations, and fascist individuals have either pledged to bring their violence directly to the border, or have called on the U.S. military, Border Patrol, and local and federal law enforcement agencies to use their fire power against the men, women, and children fleeing the very violence that US foreign policy in Latin America has both instigated and amplified.
We recognize that violence along the US/Mexico border is the result of an ongoing and bipartisan political project; for instance, recent data collected from the US Customs and Border Protection agency revealed that the Obama administration deployed tear gas and pepper spray against innocent migrant people no fewer than 126 times since 2012.
Tellingly, the use of these so-called "non-lethal" means recently reached a seven-year high under the current presidential administration. True to its history of siding with openly fascist and far-right organizations and persons, the Trump White House has intensified, not only its shamelessly fear-mongering anti-immigrant rhetoric, but its commitment to viciously brutal policies and tactics that give state actors carte blanche to use all forms of violence, up to and including lethal force, on unarmed civilian refugees. CAN recognizes that solidarity with the asylum-seekers and their supporters on both sides of the wall is all the more crucial because the present state response represents a latent fascist tendency present in US American politics, an exclusionary and selective use of violence to maintain extant racial and class hierarchies domestically and globally. Such divisions are fascism's life-blood, and so to challenge fascism is to challenge those divisions.
Whether in trying to survive through crossing political borders, seas, desserts, mountains—or simply in refusing to be moved from the homes that are rightfully theirs—all migrants and refugees, in their very existence, challenge the ethnocentric and ethno-nationalist logic that motivates fascism and that sub-tends the thinly veiled right-wing populism of the Trump Administration's racist anti-immigrant stance.
CAN unites its voices and efforts with organizations on this side of the US/Mexico border actively working to aid the asylum-seekers on the border's opposite side. Unlike fictive lines drawn on maps and globes drawn by tyrants to divide and conquer, international solidarity is real, and real international solidarity is needed.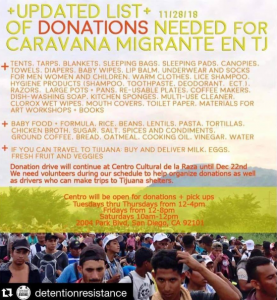 Among the many organizations along the US/Mexico border doing the necessary work that is the material substance of international solidarity is the Otay Mesa Detention Resistance. In its own words, the Otay Mesa Detention Resistance is "a non-institutional, non-partisan, autonomous committee comprised of and organizing with migrants and refugees." They hope to create nothing less than "a world where there is no profit in human suffering."
We ask you to join CAN in showing material solidarity with the caravan through donating to our fundraising campaign to support the Otay Mesa Detention Resistance. Donations may be made here.
We thank you for your support. Now, more than ever, a strong show of unity is needed. Let this be one of the ways we display that unity. When we fight together, we win.
To learn more about CAN, how to help with organizing campaigns, or information on how to start your own CAN chapter, write to [email protected] and check us out online at http://campusantifascistnetwork.com.