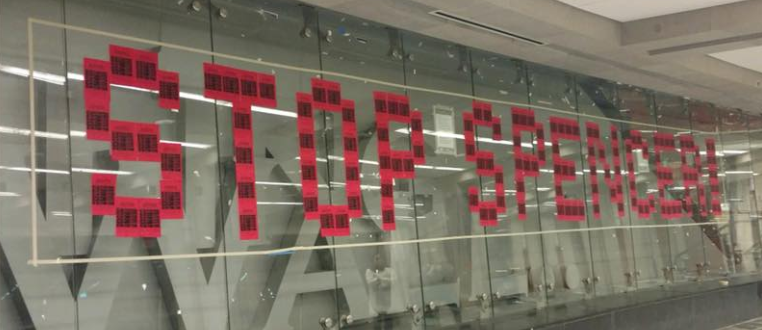 CAN Statement: Help MSU Mobilize Against Richard Spencer!
CAN Statement: Help MSU Mobilize Against Richard Spencer!
The Campus Antifascist Network offers its unequivocal support for the community-based movements at Michigan State University (MSU) and the University of Michigan (UM) to resist white supremacist Richard Spencer and his violent, neo-fascist supporters. University administrations at MSU and UM continue to willfully endanger the communities they're supposed to serve by caving to the demands of dangerous people, like Spencer and his alt-right followers, who preach "ethnic cleansing" and bring murderous violence wherever they go. In response, the #StopSpencer coalitions at MSU and UM are doing what their universities won't: defending their homes against fascism and white supremacy. And they need our help.
On Monday, March 5th, with the MSU administration's blessing, Richard Spencer will be coming to East Lansing to spread his hateful message of white supremacy, apartheid, "peaceful ethnic cleansing," and the "establishment of a white ethno-state." He will not be alone. On Sunday, March 4th, Spencer and his associates are holding an "Alt-Right Conference" in Detroit, with the expressed intention of mobilizing all attendees to descend upon East Lansing, en masse, the following day. Moreover, organizers and law enforcement officials alike have plenty of reason to suspect that large numbers of white nationalists and neo-Nazis from the surrounding area-of which there are many-will also converge on East Lansing on the 5th.
The Stop Spencer organizers at MSU have released an official call for support and mass mobilization to counter that of the fascists and white supremacists. They have also released further details about mobilization logistics. We ask you to please circulate these documents and offer whatever assistance you can, whether you are located in Michigan or not. Along with providing information and shelter for those who are most vulnerable to Spencer's violent supporters-including people of color, queer and trans folk, Jews, and Muslims, etc.-the Stop Spencer coalitions at MSU and UM are working together to provide emergency funds, legal aid, and medical assistance for protestors who may need it. The most pressing need for the organizers at Stop Spencer MSU, however, is to get as many willing and able comrades to East Lansing on the 5th to protect their community from the invading fascists and white supremacists, and to overwhelm the latter with strength in numbers.
We are calling on all comrades and supporting organizations in the region to spread the word, mobilize, and come to East Lansing to join the Stop Spencer coalition and defend the community against fascist and white supremacist aggression. If you plan to come to East Lansing, or if you have questions about how you can help, please contact the Stop Spencer coalitions at MSU or UM before the 5th, or contact the Ann Arbor Chapter of the Campus Antifascist Network. Due to the serious potential risks, it is vital for the safety of all involved that those attending coordinate with the organizers.
Thank you, comrades. Be strong, be safe, and #BashTheFash.
In Solidarity,
Campus Antifascist Network
Contact Information:
Stop Spencer at Michigan State University
Stop Spencer at the University of Michigan